Everything is bigger in Texas! And the
Texas Marathon
held in Kingwood, TX on January 1 was no exception!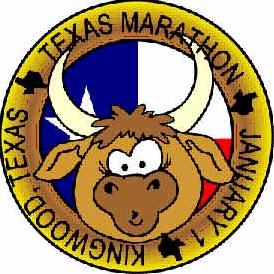 I arrived in Kingwood on the 31st and had dinner with Ron and his son, Nick then I was off to bed. I'm pretty sure I was asleep before 10:30 on New Years Eve - that had to be a first for me!
My alarm went off bright and early on New Year's Day and after a quick breakfast of coffee and instant oatmeal, we headed to packet pickup which was marked with an inflatable rubber duck!
My friend Nancy & her boyfriend came to cheer me on - this is her on the inflatable duck!
Parking was easy (it was in a residential neighborhood) and packet
pickup went smoothly. It was well organized and the line moved very quickly. All runners received a duffel bag, coffee mug, long sleeve race tee, a hat with the race sponsor's logo and some other stuff that I can't remember right now.
The marathon started at 8, and the half at 8:15. I was very happy to be in the group starting at 8:15 (we were the smart kids) - that meant I only had to run 13.1 miles. The course was a 6.55 mile loop on a paved bike path in Greentree Park with a few out and back sections. The park was gorgeous - we ran through woods, two lakes, and around neighborhoods of beautiful homes.

This was the first lake that the course took you around - I wish I would have thought to take more pics out there.

I loved the loop/out and back course - it was so much fun for me to see Dat, Greg, Sandra, Ron, and Nick out there. I also saw runners from my last couple of races on this course which was a fun surprise! Apparently wearing bright colored running skirts makes you memorable :) Everyone was so friendly, other runners were high fiving & saying good luck to everyone they passed. The atmosphere was wonderful, you could tell everyone was happy to be out there!

The course was narrow, maybe wide enough for 4 people to stand side-by-side, which made some spots a little congested at times. 99% of the runners/walkers were courteous and moved to the right so other could pass, but there were a few groups of people that didn't seem to know course etiquette (ahem couple walking SLOWLY holding hands the whole time). For me, this was only a problem when crossing the bridges and going under the short overpasses, not really a big deal at all.
After finishing, you were handed a rubber duck with your place written on it, a duck hat and a giant (and heavy) red box. This red box contained the largest marathon/half marathon in the US! The half marathoners received the same medal as the marathoners (this is why I said I was one of the smart kids - half the work for the same goodies!).

2011 Texas Marathon medal

The finish line was complete with pizza, cookies, drinks and friends and families hanging around cheering on other finishers. It really had a great family feel!

Medal and my duck stuff. 2012 is the Year of the Pink Pig!

All in all this was a great event. Hats off to Steve and Paula Boone - they did an amazing job with this. I can't recommend this event enough. I will be there in 2012 and you should too, especially if you live in the Houston area. This event sold out sometime in the summer of 2010, and I would imagine that the 2012 race may sell out even faster. Registration is already open - and at $60 this race is a great value!

Ron and I after the race